Accurate.
Affordable.
Advanced.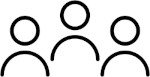 PeopleChecker, as the name suggests, enables an individual to check people online. It provides consumer-friendly criminal background search reports for everyone in need of the same.
Our motive is to make public information easily available in a structured form, enabling accurate and time saving services which provides access to the required information from the comfort and convenience of their homes.
We extract records from publicly available data and various other sources such as government agencies, county clerk offices, court records, criminal justice records, municipal records.
PeopleChecker is quick, easy to read and affordable platform, collecting vital information from various sources and updating the database accurately on a regular basis to alert more people about the offence and offenders.
PeopleChecker provides free services and appropriate search results with the intenrion to keep the community safe from the various misdemeanours and illegal occurrences.
Our aim is to change lives by providing a safer environment ensuring the availability of a comprehensive database to our clients.
PeopleChecker unites forgotten friends and lost family members and checks criminal records with a few clicks.
You can mail us:
107-07 Hillside Ave
Jamaica, NY 11432
USA
Data Center :
555 S. Independence Blvd
Virginia Beach, VA 23452, USA

+1 917 7648237

assist@peoplechecker.net